Feminist porn filmmaker Goodyn Green rocks up to our meeting on a beat-up old blue bike, jeans slung low, leather jacket, short scarlet hair framing her freckled face. Two of the tattoos curling up her arms read 'How feminine is this?' and 'Pretty Damn Fucking Feminine'.
Provocative? Sipping our coffees, Green tells me how she's been reproached by others – even family members – for 'provocative' behaviour like cutting her hair short and wearing jeans and sneakers instead of dresses. Her work raises questions about gender, identity politics and feminism. Green herself identifies as a butch lesbian but refuses to be put in a box by others.
'Well, it's ok to be put in a box, but I want to decide which box, and the lid has to be open,' she clarifies.
'Someone might look at me and say, 'Why are you so masculine?' But I might be feeling quite feminine. I mean, I have short hair but I wear make-up too. It's important that I have the power to determine these things, not others,' she continues.
And it's not just mainstream society that throws such labels around. Green recalls being asked by members of Berlin's queer community if she is a trans-man and which pronoun she would prefer: he or she?
Blurring the boundaries between sex and gender, men and women, is at the heart of Green's work. Some of Green's earlier photography – a portrait series of androgynous women – is on display at the current 'Homosexualities' exhibition at Schwules Museum. More recently, Green has been focusing on feminist lesbian pornography.
Her first film, 'Want Some Oranges?' won the prize for Best Explicit Short Porn Film at Berlin's Xposed International Film Festival.
A Copenhagen native, Green has been making queer, feminist and lesbian porn and photography in Berlin for the past eight years. I ask how she got into making feminist lesbian porn.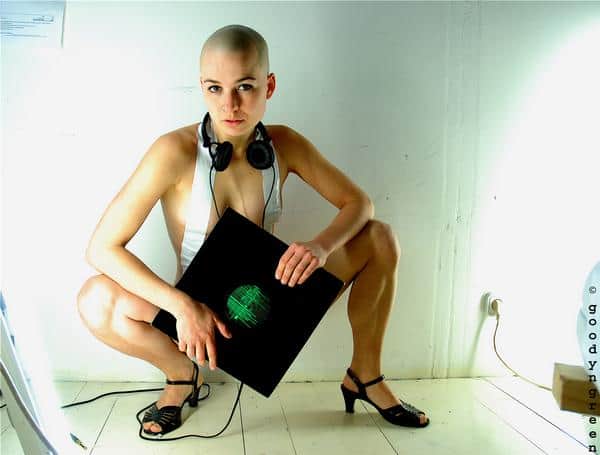 'The gay films at porn film festivals are always about men. I remember looking for some lesbian porn years ago. All I could find were films of women kissing a bit and masturbating with their underwear still on. I thought, this isn't what lesbian sex looks like!'
Green makes the sort of semi-political porn she herself likes to watch. It's important that there are no violent scenes, or images of women being raped or tortured: common features of mainstream porn. In her films, Green provokes viewers to think about sex and power in new ways.
In 'Want Some Oranges' for example, a heavily pregnant woman is the dominant partner, penetrating her female lover. Her second film, 'Shutter', which features five lesbian couples having sex in different places, premiered at the 2014 Berlin Porn Film Festival. Authenticity is an important aspect of Green's filmmaking. Her films show women – often partners in real life – genuinely enjoying the sex they're having. Green features in some of her own films. In contrast to mainstream porn, female orgasms stand at the centre of her films.
A scene from the movie 'Want some oranges' 
Apart from her career as a feminist porn filmmaker and photographer, Green is also a secondary school teacher and a mother. As we are sipping our coffees, her partner arrives with their one year old son. Green explains some of the difficulties of pregnancy as a butch lesbian.
After the first few months I didn't know what to wear. Pregnant women are supposed to wear these loose-fitting dresses but all I had were jeans and shirts. And I didn't like my body. People stared at me on the street. Some of them looked really disturbed. They couldn't figure out this male-looking pregnant person in front of them. It wasn't until the last month or two that I began to feel comfortable in my body.
Green's radicalism extends beyond her work to her identity. It's precisely this sort of radicalism that pushes the limits of what it means to be a woman. And that is 'pretty damn fucking feminine' indeed.