As Australia's Prime Minister, Tony Abbott has yet to unite the nation let alone move it in a new direction. Unlike his predecessors such as John Howard who declared a war on guns, Kevin Rudd who apologised to the Stolen Generations and Julia Gillard whose Gonski education funding reforms and National Disability Insurance Scheme were groundbreaking, Abbott has produced nothing of significance in his term as leader. Known for his opposition to the Labor government and the Rudd-Gillard policies, Tony Abbott has yet to amount to anything substantial.
Although the Labor Party are like to win the next election, it might just be possible for Tony Abbott to save the Coalition government and his leadership in his 3rd year in office. If Australian Prime Minister is actually keen on winning the next election, here are some things that he and the Coalition government could do:
The Australian economy is weaker than it was when Abbott took office. Abbott needs to strengthen the economy and boost business confidence over the next 12 months. As the Abbott government entered this term of office largely on the basis of being different to the previous Labor government, it now has to present the country with its own ideas and set a positive agenda for a second term if it wants to win.
A good opposition leader doesn't equate to a good Prime Minister and Australia has witnessed such with Tony Abbott whom continues to be stuck in "short-term, negative, self-absorbed" politics. The Prime Minister needs to re-evaluate his front bench and cabinet as well as coming up with some long-term reform proposals for the country. And in order for this to take place, Tony Abbott must regain the confidence of his own party to stop the leaks, mistakes and distractions that have continually dogged his government over the past 2 years.
If not, Abbott will become only the second single term government in Australian history. The last time this happened was in 1929-1932 with James Scullin during part of the Great Depression. Perhaps Tony Abbott can start with realising that stopping the boats is not a valid defense of the government's economic record
Here's a quick look at the Tony Abbott and the Coalition government over the past 2 years:
Tony Abbott wins the 2013 Federal Election. His key themes during the campaign were to abolish carbon and mining taxes and to 'stop the boats'. On the eve of the election he also made an on-camera pledge: 'No cuts to education, no cuts to health, no change to pensions, no change to the GST and no cuts to the ABC or SBS.' Some of these promises would come back to haunt him. Photograph: Bloomberg via Getty Images
The Abbott ministry is sworn in at Government House in Yarralumla. Julie Bishop was announced as the foreign minister and the only woman in cabinet.
While out selling his governments unpopular 2014 budget, the PM made an appearance on Melbourne radio. He took a curly question from a grandmother who was concerned about the $7 fee on her visit to the doctors.
Abbott and Japan's prime minister, Shinzo Abe, signed a free trade agreement in Canberra during the Japanese leader's tour of Australia and New Zealand. The agreement provides preferential access to many of Australia's key exports and was seen by businesses as a victory. Photograph: Alan Porritt/AFP/Getty Images
G20 summit: Tony Abbott laments to world leaders his failure to pass tax on GP visits as an example of his domestic issues to the confusion of many international leaders.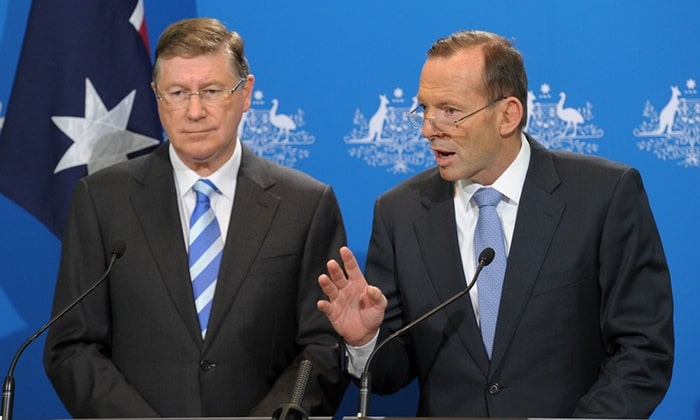 The Liberals lost the Victorian and Queensland State Elections. Both were defeats to first term Liberal governments that caused shockwaves on the federal backbench, with some calling the loss 'catastrophic'.
ony Abbott makes his most famous 'captain's call' and dismays and angers those at the top levels of his government by awarding an Australian knighthood to Prince Philip. This act led directly to the 'near death experience' in the party room at the resumption of the parliamentary sitting year in February.
During a tour of Charlton Farm Produce factory in Tasmania, the PM ate a raw onion, skin and all. Social media came alight with quips and memes.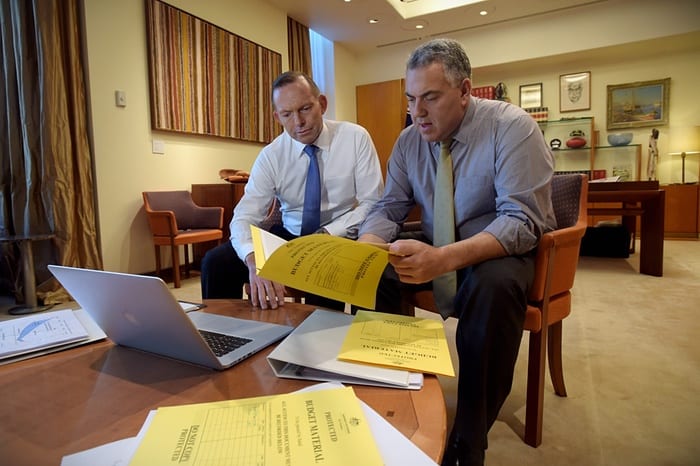 In a photographic opportunity which reached #PeakAwkward, Abbott and the treasurer, Joe Hockey, spent time posing and chatting together for the cameras in the leadup to the 2015 budget.
Abbott looks on as China's minister of commerce, Gao Hucheng, and Australia's minister for trade, Andrew Robb, sign the free trade agreement between the two countries in the main committee room of Parliament House.
The newly sworn commissioner of Australian Border Force, Roman Quaedvlieg (second from left), is pictured with Abbott at a ceremony to mark the birth of the new force. The Australian Border Force in August 2015 has an embarrassing back down on its 'Operation Fortitude' in which it intended to conduct so called random checks for visas in Melbourne.
Embattled former Speaker Bronwyn Bishop was forced to resign after controversy grew over her use of parliamentary travel entitlements in a scandal now known as choppergate.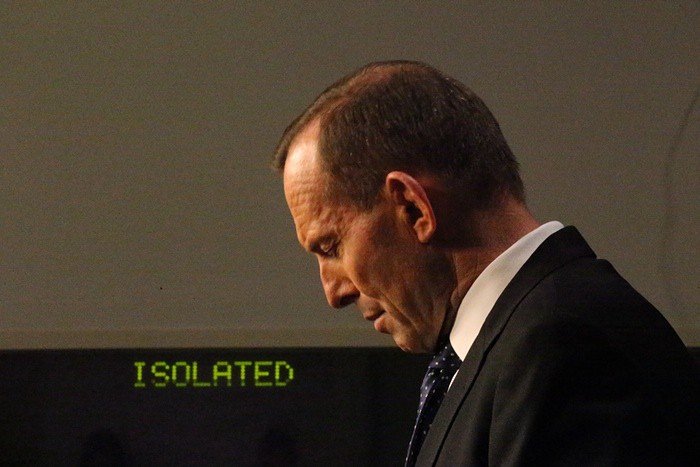 After a marathon six-hour joint Coalition party-room meeting, which was called to discuss same-sex marriage, the Prime Minister held a press conference at 9.45pm to announce that Coalition MPs would not be allowing a free vote on the issue in this parliament.